Exclusive print savings with free audit for SPA Members
Flash Friday 20/11: Sex surveys, drug addiction and Paris tributes
It's Friday the 13th. Cooped up in a ball worried you'll suffer some bad luck today? Have a read of our weekly #FlashFriday round-up to take your mind off it.
Man arrested on suspicion of theft at Royal Holloway campus
By Louise Jones for The Orbital
A man was arrested in the early hours of Thursday morning on suspicion of theft.
Surrey Police say they were called to Royal Holloway following reports that a man had attempted to steal a handbag from a car parked on campus.
It is reported that the offender was disturbed by the victims whilst attempting to break into the car, and was subsequently challenged by university security staff and students. The students then proceeded to chase the man and attempted to detain him, but some were allegedly assaulted by the man during the struggle.
Police launched a manhunt for the suspect as he escaped to Egham. Several police cars were present on the ground and a police helicopter searched the gardens of nearby properties.
They eventually found the man hiding on top of a garage roof in Moore Grove Crescent. He was then arrested by police officers on the ground and taken into custody.
---
Data obtained by the Taxpayers' Alliance reveals some of the highest paid staff members at HE institutions
By Charlie Spargo for Mancunion
More than 100 staff at the University of Manchester earn more than £100,000 a year according to data obtained by the Taxpayers Alliance at a time when cuts are being made across the institution.
The same results, obtained by Freedom of Information requests and analysis of annual accounts, showed that more than 7,500 staff at Higher Education institutions across the country have salaries exceeding this.
This came as part of the Alliance's Public Sector Rich List, an extensive investigation into the incomes of worker at public institutions in the UK, from Town Halls to hospitals.
---
Wheelchair users cannot freely move from Derwent to Central Hall as ramp access to main walkways has been removed
By Chris Owen for Nouse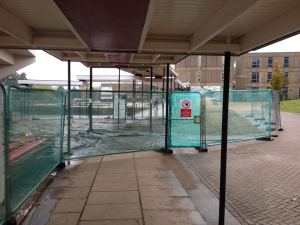 Access to some of campus' main thoroughfares has been limited to some students with disabilities, and completely cut off to those in wheelchairs, as a result of ongoing building works.
The covered walkway leading from Derwent College through to Vanburgh that makes a junction with the path to Central Hall and on to the Exhibition Centre is currently blocked off, forcing students to walk around the obstruction and rejoin the path on the other side.
However, the path beyond the obstruction is raised up an inch off the ground, meaning that wheelchair-bound students cannot easily rejoin the walkway to get to Vanburgh or Central Hall. Instead, they must make lengthy detours across two bridges and along the opposite side of the lake to reach the University's main hall.
---
Newsbites
Digestible news, a nib at a time.
---
Forge Press' Power of the Poppy feature is a brilliant one. Posted on the 11 November, internationally recognized as Remembrance Day, this powerful piece is written by Madelina Kay. One to bookmark!
---
As part of a new initiative to provide information to victims of hate crime and encourage the reporting of incidents, representatives from Nottinghamshire Police and City Council held a meeting at the University of Nottingham on Monday 26 October.
The meeting was jointly led by Dave Alton, Hate Crime Manager for Nottinghamshire Police and the Safer Nottinghamshire Board, and Clive Foster, Hate Crime Project Officer for Nottingham City Council.
Sam Peake, Students' Union Community Officer, attended the meeting alongside students from the 'Parliamentors' scheme, who are being mentored by local Labour MP Lillian Greenwood.
---
Cardiff Student Media presents a multimedia digital magazine with reviews, videos, live sessions and interviews from SŴN Festival 2015.
---
Like this? If you aren't already a member of the Student Publication Association, join now.
Flash Friday is a weekly round-up that aims to showcase the most engaging student news stories reported by our member publications. If you want to submit a story, share your content with us at online@spajournalism.com or tweet us @SPAJournalism using the hashtag #FlashFriday.