Splash Sunday 30/10: Fire in the forum, fire in the gallery!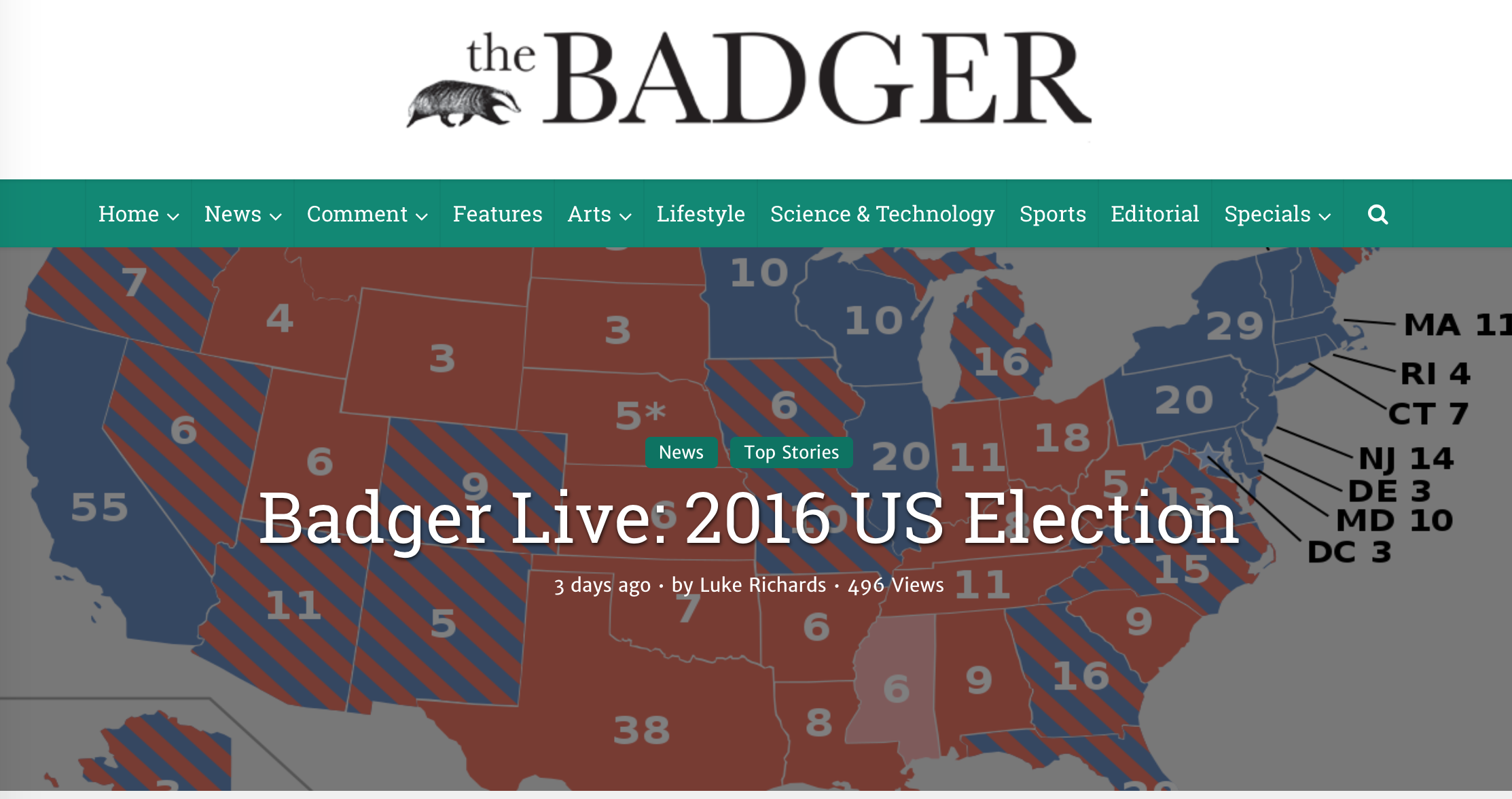 #FlashFriday 11/11: The US Election
I've got a shorthand exam next week, what the hell am I doing putting this together?! Oh well, here's a pick of the best front pages, articles and social media from the past week. Don't expect me to do this for every edition! It's back to the usual two articles and a GIF next week!
Gair Rhydd, Cardiff University
Pick up Gair Rhydd now! This week: Cathays crime rates soar and Cardiff sends life saving trauma packs to Namibia https://t.co/gVATojgQl9 pic.twitter.com/Cif0TrWfCH

— Gair Rhydd (@gairrhydd) October 31, 2016
Gair Rhydd have a juicy exclusive for their front page splash! You can read the full article here.
---
Epigram, Bristol University
A sneak preview of #tomorrowspaperstoday – don't miss out on your free issue of Epigram, out tomorrow!! 📰 pic.twitter.com/Rq8dURShKA

— Epigram (@EpigramPaper) October 31, 2016
Really relevant student issue and what a fantastic image to accompany the story! Read the full article here.
---
Palatinate, University of Durham
The latest edition of @PalatinateUK & @indigodurham is out tomorrow! You can pick up a copy @dulib, colleges & @durhamSU #readpalatinate pic.twitter.com/gelplsDip8

— Palatinate (@PalatinateUK) November 2, 2016
Great to see more and more student publications beginning to print supplements. Looks absolutely splendid!
---
BUMF, Arts University Bournemouth
✨ Issue 4 is online now ✨https://t.co/cDAnbnXyxC pic.twitter.com/K8ifwnGFn1

— BUMF (@BUMFmedia) October 31, 2016
BUMF have a great line in elegant magazine covers, with their latest being no exception!
---
The Boar, Warwick Uni
Warwick's Vice-Chancellor, Stuart Croft, talks Brexit, diversity and mental health with The Boar.https://t.co/81W6Na0WOO

— Boar News (@BoarNews) October 31, 2016
Scrutiny is an essential part of journalism, I need not tell you that. The Boar pulls this off as well as asking some quite thought-provoking questions on some important topics.
---
 The Badger, University of Sussex
Confident opening remarks at the Trump vs Clinton debate: Trump offers "hope" or is "regressive"… Can the two co-exist?

— The Badger (@TheBadgerNews) November 2, 2016
"What is the greatest downfall of the current establishment?" "Everything." – Trump's team dropping fire 🔥

— The Badger (@TheBadgerNews) November 2, 2016
"Trumped-up trickle down economics" – Team Hilary fights back

— The Badger (@TheBadgerNews) November 2, 2016
This week's Live Tweet of the Week comes from The Badger. They picked some of the best quotes from a Trump v Clinton mock debate for your delectation!