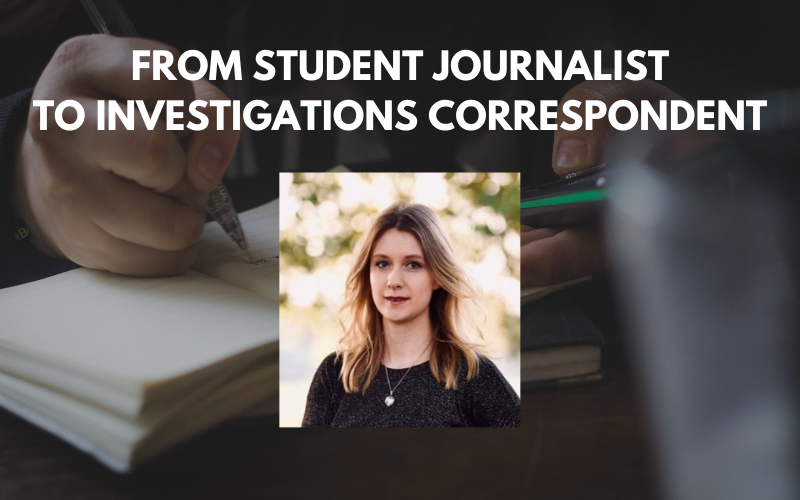 Emily Townsend: From student journalist to investigations correspondent
We spoke to Dan Falvey about how he went from being a student journalist to political correspondent for The Daily Express.
What made you want to become a journalist?

I first realised I wanted to become a journalist amid the fallout from the 2008 financial crash. I remember thinking it was a huge deal and could never understand why others my age didn't care.
I began to think 'well, they should care'. It was around then I realised what I really wanted to do was report on the news for a living and make others feel the importance of stories in the way I did.
What was your student media journey?

My first real experience of journalism was when I was at the University of East Anglia. Alongside my degree I was heavily involved in the student newspaper, Concrete. After being a reporter in my first year, I was made News Editor in my second year, before going on to be the Editor-in-Chief in my final year.
After leaving I chaired SPA from 2017-18. It was a great opportunity to help student journalists across the country develop their skills to place them in good stead for a career in the industry. Student journalism did so much to help me realise my ambitions, so it was nice to give something back.
How did you land your first journalism job?
In part, a bit of luck. While I was doing my NCTJ at News Associates I did work experience every Friday at the Oxford Mail. A new local TV station "That's Oxfordshire" had just been set up and was looking for someone not long qualified to take on a job reporting on the local councils.
My knowledge of the patch from my work experience at the Oxford Mail landed me the job. It was a case of right place, right time.
 What do you do now?
My job is to cover the latest developments in Westminster: reporting the big announcements of the day; finding the story hidden in long (and sometimes rather tedious) parliamentary debates and committee sessions; uncovering the latest gossip; and finding my own exclusives.
One of the most exciting things about this job is you never really know what's going to happen at any given point. Breaking news often has the ability of getting in the way of the best-laid plans – the key is to be willing to adapt quickly.
How did student media prepare you for a journalism career?
Journalism can be a daunting industry: daily deadlines, constant demands from the news desk for exclusives, and the pressure of screwing it up. Student media gave me the chance to do all of this but in a less pressured environment.
It also gave me the chance to try my hand at a bit of everything, which is important because it allows you to understand what you most enjoy doing!
How did your NCTJ training prepare you for a journalism career?
I cannot say enough just how much my NCTJ training at News Associates helped me prepare for a journalism career.
Over the period of just six months it taught me how to write punchier, more engaging stories; how to stay out of trouble with the legal department; and gave me the confidence I needed to know I could walk into a newsroom and do the job.
I left NA as a far more rounded journalist who understood the importance of 'light and shade'. It fundamentally changed and improved my understanding of what is a good news story.
Top three pieces of advice for student journalists?
1) Read everything, and I mean everything. I cover politics but I still know what's going on with the Royal Family, in sport, in showbiz, and everything in-between.
2) There is no right way to start your career and there are no jobs that are beneath you – but equally don't ever believe you're not good enough to apply for something.
3) Have the confidence to call yourself a journalist now. You're not an 'aspiring journalist', you already are one with a specialist patch.
News Associates is the UK's number one NCTJ journalism training school, offering fast-track and part-time postgraduate courses in multimedia journalism and multimedia sports journalism. Find out more here: https://newsassociates.co.uk/