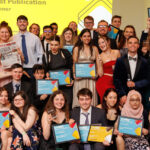 SPANC23: National awards winners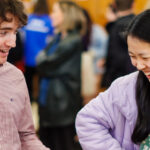 Become an SPA trustee and foster the next generation of journalists
Exciting new roles available with the Student Publication Association
The SPA is now recruiting for regional and project officers.
Having elected our new executive committee at #SPANC23, the SPA is now thrilled to open applications for a number of other roles which will help foster the next generation of student journalists across the country.
Our Regional and Project Officers perform vital roles, keeping our members supported and engaged, and helping the SPA grow.
They look after specific patches – whether geographically or on a project basis – and work closely with the Executive Committee.
We value everyone's input and aim for these roles to provide useful experience to put on your CV, connect you with industry professionals and equip you with valuable skills.
Time commitment: The baseline commitment we would expect is about 2 hours per week. This fluctuates during the year, depending on how busy the SPA is. In the run up to regional events and national conferences, it is likely to be more. We would expect all officers to join semi-regular meetings, to update on their work.
Remuneration: These are volunteer roles but reasonable expenses are covered.
Eligibility: To apply you must be a current student or have graduated within the last year.
Deadline: Applications are open until 11:59pm on Sunday 30th April.
Find out more about each role below, then apply here or below.
---
Regional Officer (eight positions)
Our regional officers are the SPA's direct link with student publications and journalists across the country. They are devoted to knowing what's going on in their region, have regular check-ins with their member publications, and – most exciting of all – help plan SPANC if the winning bid comes from their patch.
Our regions are: Scotland, Ireland & Northern Ireland, Wales, North England, South East England, South West England, London, and the Midlands. You do not have to be from or based in any of the areas to apply for the positions.
Key responsibilities will include:
Serving as the first point of contact for all publications within the Regional Officer's area, should advice be required or issues arise;
Act as a conduit between their area's publications, and the Executive Committee and Trustees;
Promote the work of member publications within their area, within the SPA and the wider student media community;
Support the chosen member publication within their area, alongside the Executive Committee, to organise and host the SPA regional events and awards;
Assist with the organisation of the SPA National Conference, liasing with speakers from their area, and helping to market the conference to member publications;
Attend regular meetings with other Regional Officers and the SPA Executive Committee to report on progress and liaise with other representatives.
---
Digital Media Officer
We know most of our 175 member publications interact with the SPA through digital media, and this year we want to reach more people than ever building on the momentum of our most successful SPANC.
In the past, we've suffered from neglecting our digital media outside of big events. We want someone with creativity and drive to change this, who is passionate about shouting about the great work student publications do all year round.
This year, one of the Trustees' strategic goals is to overhaul the SPA website, which has become outdated, so the DMO would play a big role in that process.
Key responsibilities will include:
Maintaining the SPA website, keeping information up to date and commissioning content from the rest of the team;
Assisting the Executive Committee with the digitisation of projects;
Sharing the great work from our member publications throughout the country;
Managing the SPA's social media accounts – currently Instagram, Twitter and Facebook – to ensure a consistent presence. This year we also want to hone our LinkedIn utilisation.
---
Alumni Officer
Last year, the SPA celebrated its 10th anniversary and we found so many working journalists who had been involved in our charity in some way.
We have an extensive alumni network but we don't utilise this as well as we could.
We want someone who can ignite the nostalgia of student journalism in now seasoned old hacks and bring them back into the fold. Whether that's through offering mentoring to our members, asking them to speak at conferences, or just keeping them engaged with the organisation through a newsletter/ LinkedIn network.
Key responsibilities will include:
Creating a network of SPA alumni and ensuring they remain engaged with the SPA;
Maintaining a contact list of interested SPA alumni to assist with training materials and events;
Working with the DMO to create content involving alumni for our website and social media channels;
Working with the exec and trustees to develop the mentoring scheme.
---
Advocacy Officer
One of the biggest roles the SPA plays is protecting our members against censorship from universities, unions, or outside bodies and helping when they get in trouble.
Our advocacy officer will protect free student journalism and fight your corner when you need it. And when we can't help – for example with a legal issue – we'll point you in the direction of someone who can.
The Advocacy Officer's duties will include:
Serving as a point of contact for publications experiencing issues with students' unions and universities;
Working with the Executive Committee to draft statements and advice regarding member publications' disputes;
Monitoring emerging issues within student media;
Proactively reaching out to publications with difficulties;
Cultivating contacts who are willing to give their expert advice to student journalists.
---
Trustee
We are also looking for a trustee to further our work. Prior experience of student or professional journalism is not essential to apply for this role, although you must share our commitment to the advancement of student journalism. However this role is not suited to a student and relevant experience to bring to the table is required. for more information, click here.
---