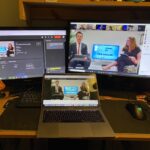 #SPANC2020 winners announced!

The SPA is recruiting three trustees!
The work the Student Publication Association does locally, within our eight regions, is some of our most important, and the Regional Officers we appoint each year are a huge part of this. They allow us to give more detailed, targeted support to our publication members from around the country, no matter where you are.
During the current public health crisis, this is more important than ever. Our members are facing cuts to funding, struggles to attract members and many of them have approached us asking for help. With a new team of Regional Officers, our hope is we can provide this to each and every one.
You now have the chance to apply to represent your Region within the SPA, as a volunteer, working with the Executive Committee and Trustees to support our members, help organise our programme of events and much more.
As a reminder, the SPA's eight regions are Ireland, London, Midlands, North, Scotland, South East, South West and Wales.
A Regional Officer's duties include:
Serving as the first point of contact for all publications within the Regional Officer's jurisdiction, should problems arise or advice be required
Act as a conduit between their region's publications, and the Executive Committee and Trustees
Promote the work of member publications within their region, within the SPA and the wider student media community
Support the chosen member publication within their region, alongside the Executive Committee, to organise and host the SPA Regional Conferences
Assist with the organisation of the SPA National Conference, liaising with speakers from their jurisdiction, and helping to market the Conference to member publications
Attend regular meetings with other Regional Officers and the SPA Executive Committee to report on progress and liaise with other representatives
If you're interested in representing your region, please take the time to fill in the below (and linked) Google Form, answering a few questions on your experience and what you could bring to the role, and our Executive Committee will consider all applications.
You don't need to have been previously involved with the SPA in order to apply for these roles, and you can apply whether you've just graduated or you're still a student. If you think you can offer something we're missing, give the application a go!
If you have any questions about the role, the process, or what region you're in, please email chair@spajournalism.com and we'll do our best to answer. Good luck!
The deadline to apply is the end of day on Friday 6 November.