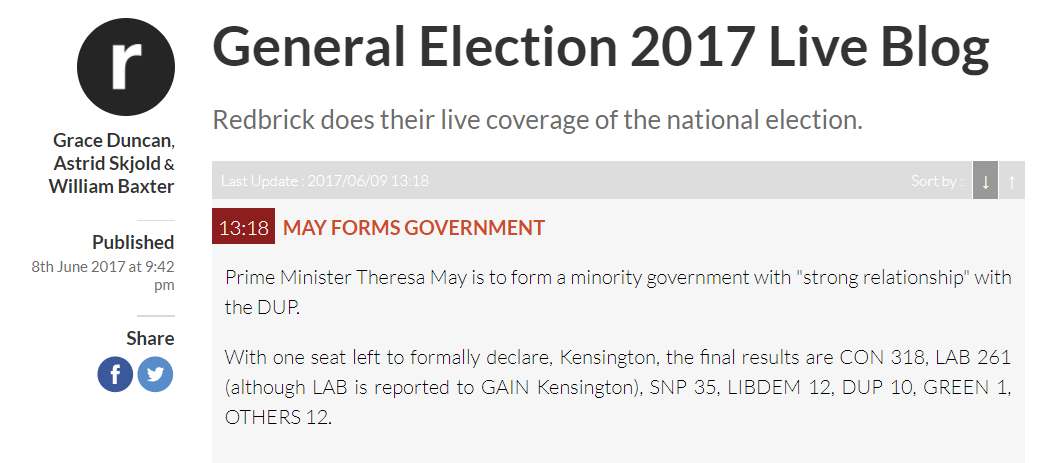 Splash Sunday – 11/06 – General election coverage
Arts
Demon Media
Demon Media review Alt-J's latest album.
alt-J's creative risks pay off on their third LP – Relaxer album review
The Edge
The Edge published this thought-provoking piece from a drama student, on the value of criticism.
https://www.theedgesusu.co.uk/features/2017/06/18/well-you-did-ask-a-defence-of-reviews-and-reviewers/
The Falmouth Anchor
Emma Pocock spoke to Carrie Hope Fletcher about her role as Wednesday Addams.
http://www.falmouth-anchor.co.uk/wp/index.php/2017/06/15/interview-carrie-hope-fletcher-on-the-addams-family-in-cornwall-overcoming-criticism-and-multi-tasking/
The Verse
The Verse with a great review of Wonder Woman.
Comment
Forge Press
"What is clear to see is that lax safety regulations allowed the contractors to choose dangerous cladding, but they still had a choice to abandon any idea of cutting costs and pick a far safer collection. They didn't. It's a decision that will haunt those councillors for the rest of their lives." Tim Adams at Forge Press on the Grenfell Tower fire.
http://forgetoday.com/press/grenfell-tower-tragedy-raises-vital-fire-safety-concerns/
Features
The London Student
"Believe me when I tell you that for me, a lot of the time walking up and down stairs is the equivalent of an able-bodied person running a marathon with glass shards in their feet." Louise Lee wrote this powerful piece on ableism for The London Student.
http://londonstudent.coop/comment/2017/06/18/heres-understand-ableism/
News
Bath Impact
A great piece from Alisha Lobo, at Bath Impact, on the contrast between the university's success in the Guardian league tables, and students' outrage over rent increases.
http://bathimpact.co.uk/2017/06/15/bath-gets-glory-from-the-guardian-but-is-shamed-by-students-for-rent-rises/
Brig News
Stirling's student paper covered their university's response to the Grenfell Tower fire.
https://brignews.com/2017/06/16/university-releases-reassurance-after-grenfell-fire/
Concrete
A story that has now been covered by the Mail, the Telegraph, and other national outlets. Here's Concrete's report on the UEA data leak.
http://www.concrete-online.co.uk/sensitive-student-data-leaked-school-wide-email/
Redbrick
Sport Editor Nicola Kenton reports on the University of Birmingham's new gym, opened by triathlete and UoB graduate Chrissie Wellington OBE.
http://www.redbrick.me/sports/chrissies-gym-ub-sport-fitness-officially-opened/
The Boar
The Boar have reported on the criticisms to proposed academic reforms at the University of Warwick.
The Gown
Caoimhe McGee, at The Gown, reported on the news that a young woman was sectioned in Dublin after seeking an abortion.
In case you missed it…
The Orbital
Orbital Editor, Abbie Cheeseman, investigates the extent of gender pay gaps within Royal Holloway, University of London.
http://theorbital.co.uk/17087-2/
The Mancunion
Finally, The Mancunion published this piece by Dalal Abbasi on her reaction "as a Muslim, a woman, a mother" to the Manchester attacks.
http://mancunion.com/2017/06/07/manchester-attacks-writing-muslim-woman-mother/