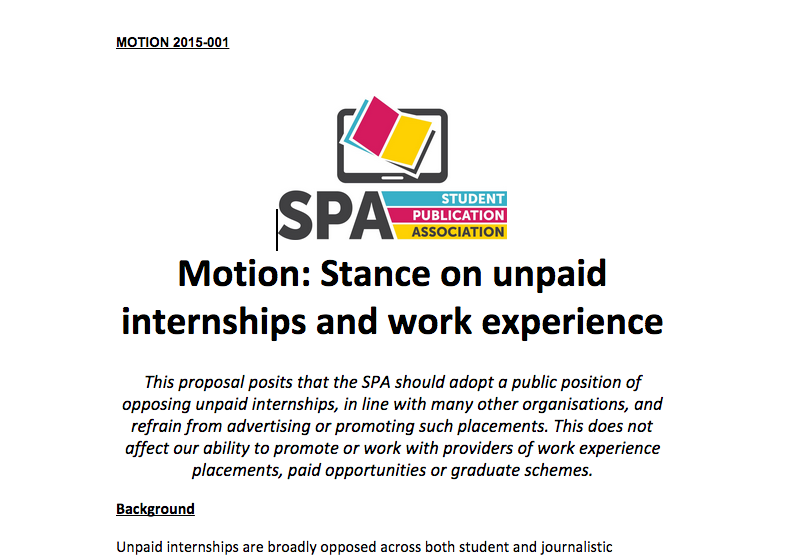 SPA votes to oppose unpaid internships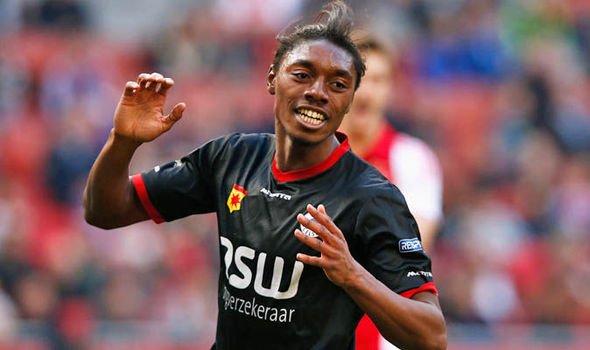 Flash Friday 4/9: Meningitis, #CapsOff and Deadline Day
We're all about accountability here at the SPA – so here's our list of what we've been up to over the summer hols.
As always, we'd love to know your thoughts on what we're doing – give us a tweet @SPAJournalism, or shoot Jem an email at chair@spajournalism.com.
What we've been beavering away on:
Membership Increases: We've been working hard to reach even more people across the country, this summer welcoming our first members in the Republic of Ireland. Overall, we've now got more than 90 members!
Supporting Student Papers: We've written numerous letters of support and provided advice and statistics for a number of student newspapers, including being part of a successful campaign to save Forge Press' newsroom.
New Recruits: We've welcomed Emily Townsend as our Online Editor and Alex Vince as a support assistant during the summer months. Fraser Whieldon also replaced Sean Howlett as South East officer.
#FlashFriday: A brand new content initiative to showcase the best student journalism across the UK and Ireland also hit the internet this month, thanks to our new online editor.
Camayak Scholarships: We've awarded scholarships to student newsrooms in the UK, giving them software worth more than £4,000.
Content Review: We want to make sure we're providing the best possible content, so we've been having a review of what we offer online and working out how to make it better.
Style Guide: You asked, so we did. Our new style guide will hopefully act as a useful tool for publications.
NUS Media Summit: Development Officer Jon May ran a joint workshop with NaSTA at the Amnesty NUS Media Summit in August.
Medical Journalism Summer Awards: Jem went to the MJA's summer awards in London to represent and promote the SPA.
Socials: It's no secret Jem's a fan of gin, so we've had a number of successful meet-ups in London with our members.
Alumni Scheme: Our wonderful new alumni officer has launched our alumni service, and we've had more than 30 sign-ups so far! Content incoming shortly.
#FOIAwards15: We love FOI, so we've opened a whole competition to celebrate the best FOI stories, as well as producing a guide to getting the story.
Website Updates: We're always tweaking, and this month we've uploaded all our documents online so people can see exactly what we're up too.
Brighton Journalist Works Discount: We've been able to offer an exclusive discount on part-time courses starting in September.
Brighton Journalist Works Scholarships: Four students were awarded scholarships at Brighton Journalist Works to get their NCTJ Diploma.
Bank Account: It's a pretty dull addition to this list, but an important one nonetheless. We're now the proud owners of an SPA bank account. Feel free to send us money if you've got too much.
Next up on the list:
Regional Conferences & Masterclasses: As the new academic year kicks in we're keen to get the ball rolling with events across the two countries.
The big 100: We're keen to reach out to even more members and 100 is the aim! If you're a student paper that hasn't yet signed up, we'd love to hear from you.
Membership Survey: Data is always important, and we want to know more about our members, so we're leading the way in creating a members survey to give us a real insight into student media. 
Awards Page: Similar to how we offer a graduate scheme
Constitution Review: We love documents, and getting documents right is important, so Jon May is completing a review of the constitution.
Mentoring Scheme: One of Jem's manifesto points is to set up an SPA mentoring scheme, and it just so happens it's next on her to-do list.
Welcome Pack: We're designing a pack to make our new – and returning members – feel welcome to the SPA
Sponsorship Pack: Again, ending on a money note, we're producing a sponsorship pack so people can pay us to help support you.