SPA Diversity Bursary recipients urge others to apply for scheme next year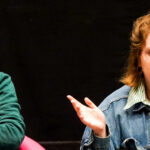 A day in the life of Caitlin Doherty
At the 2022 Student Publication Association National Conference (#SPANC22), we sat down with Richard Danbury, who leads on the City, University of London investigative journalism MA alongside his work with Channel Four and the BBC. Richard told us about the difference between data and financial journalism, as well as some of the opportunities that students have to make the leap into those branches of the industry.
The City, University of London journalism department is one of the most well-renowned in the UK, and provides great opportunities to students through both its undergraduate and extensive Masters programmes. To find out more about what they offer click here.
What is the difference between data journalism and financial journalism?
They overlap in that both deal with numbers, but they are different. So financial journalism is the journalism to do with finances; to do with globalisation; to do with business. It's journalism to do with the flow of money and the creation of money. Data journalism is more about finding patterns in information, often numerical – but not only numerical information – and turning that into journalistic stories and visualisations. Financial journalism and data journalism are similar and can cover the same thing, but they are different. Data journalism tells stories outside of business and finance – for example you'll see award-winning data stories on sport, crime, housing, transport – basically anything where information about people is stored and can be accessed or gathered by journalists.
What opportunities are available in data journalism? How do they differ from those in financial journalism?
Well, given that there are different outlets dealing with financial journalism, or data journalism, the opportunities are different. With data journalism, there's a broader range of outlets that are interested in data journalism. Some of the smaller newsrooms have developed investigations teams who tend to focus on data, other bigger organisations may well have a data and a visuals team. The FT, obviously, would do both. But for example, The Guardian, whilst it does do finance, would have a broader area which you would apply data journalism to. While data journalism has lots of smaller digital outlets, which are particularly interested in data journalism, they wouldn't necessarily be interested in financial journalism.
How are these two types of journalism different from other forms of journalism?
They're similar in that, if you think about journalism, you can have journalism that's based on platform – so newspaper, magazine, TV, radio, and so on; you can also have journalism based on forms of content. And in that sense, data journalism and financial journalism, like investigative journalism, are similar because they're based on content. But they're different from other forms of journalism, because of the approaches and the nature of them. 
What would you recommend to those interested in data or financial journalism who struggle with maths and data?
If you're good at numbers, then obviously that's an advantage. But it's not necessarily an impediment, it's not necessarily going to prevent you from being able to do them. Glyn Mottershead, who teaches data journalism at City; always points out that you don't really have to be a maths A level student to be able to do data journalism, because there's lots of different elements of it. It's about the people who are represented in the data. Basically, if you can learn to run a spreadsheet then you can start to ask questions of the data. If you are interested in a bit of coding, then that's good as you can take your analysis further. With financial journalism it's also helpful to know how to use numbers, but it's more important that you have an idea and an interest in business and how finance works. 
I suppose there's a lot of in house learning as well?
Yeah, you will learn and familiarity comes from doing things again, and again. It's like anything, like driving: before you know how to drive, you don't think you can drive but after you've done it, you can't remember why you couldn't. It's the same with financial journalism and data journalism.
One of the best ways to enter the journalism industry is by networking. With this in the mind, how did you develop your professional network?
So I'm a bit weird because when I came in, I had a previous career – well a couple of previous careers – but the relevant one is as a lawyer. So I came into the industry by getting in touch with lots of journalists who are interested in the law.
My first break was in a programme called 'Rough Justice'. These programmes investigated allegations of miscarriages of justice, and when I came in as a lawyer, they gave me a job. From there, I made contacts. 
Was it quite a smooth transition for you?
No, no, it was very difficult. You know, this was before emails, so I wrote hundreds of letters. I wrote a hundred letters to lots of different outlets, and then about three or four got back to me, and of those, one of them gave me some work experience. And then 10 years later, I left the BBC.
What makes studying data or financial journalism at the City, University of London a unique experience?
There aren't that many places to study either, so that makes it pretty unique. At City, there are quite a lot of scholarships on offer to students. And, in non-COVID times, the Financial Journalism MA has global trips, so that's an advantage. One of the good things about data journalism at City is the person who runs it: Glyn, who's a genius and knows all the stuff that there is about it. And the same goes for Paul Solman and Jane Martinson for Financial Journalism.
City, University of London are hosting an in-person open evening on Wednesday 8 June for anyone interested in studying an MA in journalism. Find out more here: https://www.city.ac.uk/news-and-events/events/2022/june/postgraduate-open-evening