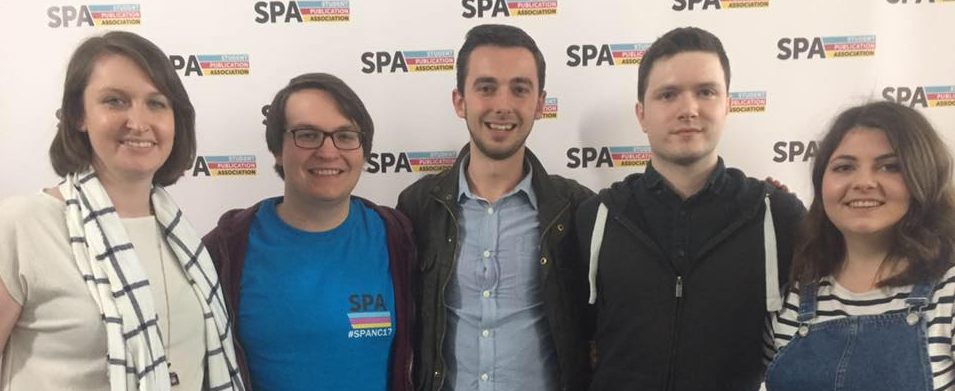 New SPA committee and first trustees elected at #SPANC17 in Leeds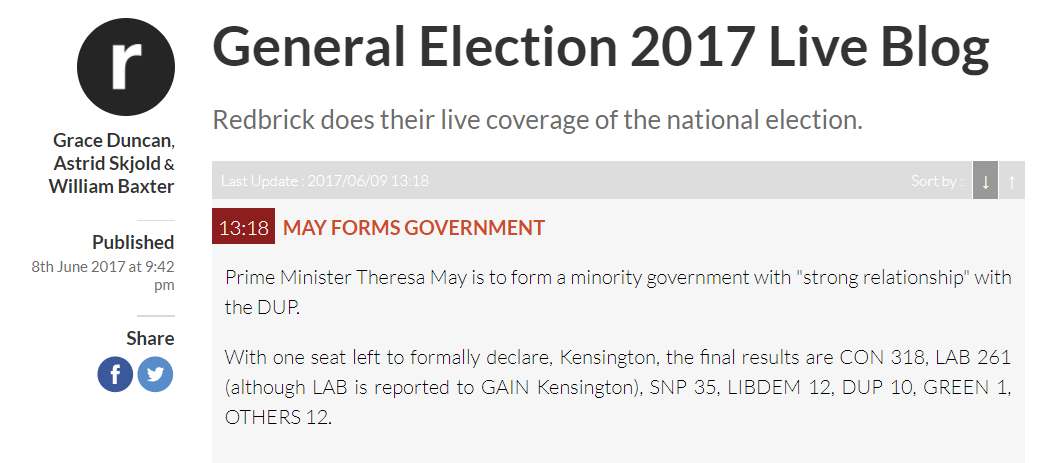 Splash Sunday – 11/06 – General election coverage
Epigram, the official student newspaper of the University of Bristol, was the big winner at the Student Publication Association's National Awards this weekend, scooping both Best Publication and Best Reporter. York Vison's Abbie Llewellyn scooped the prestigious Outstanding Commitment, while Interhacktives at City University received Best Specialist.
Other big winners from the night included students from UEA's Concrete and University of Exeter's Exeposé across the Interview, Feature, and News Story categories.
The annual awards, which are now the only full set of student media awards in the UK, were judged by industry figures including Mark Wray, Managing Director of Press Association Training, Alan Hunter Head of Digital at The Times and Sunday Times, and Louise Ridley of BuzzFeed News.
Fighting off competition from 87 different publications and almost 1,000 entries, Epigram was crowned the Best Publication in the UK and Ireland, up one from highly commended last year.
'Many professional publications could learn from the innovative approach'
"Epigram is a very worth winner of this award," said judge Mark Wray. "Many professional publications and publishers could learn much from the innovative approach being championed.
"I'm sure many of those involved in Epigram's publication will go on to great things in the world of journalism."
Emily Faint, a 20-year-old English Literature Student at the University and News Editor at the paper, was also crowned Best Reporter.
William Coles, Ex-Royal Correspondent at The Sun and judge of the category, praised her for a "terrific exclusive" about students taking in a fugitive on the run.
'She has all the skills to be a real star'
"A really good job," he added. "If Emily sticks with it, she has all the skills to be a real star."
Speaking of her win, she said: "I'm absolutely delighted with this award. It's the perfect way to wrap up two amazing years at Epigram, and I am incredibly proud to have been recognised by the SPA in this way."
A full list of winners is below:
Best Publication (Judged by Mark Wray, Managing Directer at PA Training, Sponsored by PA Training)

Winner: Epigram, Bristol
Highly Commended: Concrete, UEA
Special Mention: The Magdalen, Dundee

Outstanding Commitment (Judged by Ben Jackson, Former Winner & Sub-Editor at The Daily Mail, Sponsored by The Daily Mail)

Winner: Abbie Llewyelen, York Vison
Hight Commended: Emma Yeomans, London Student

Best Specialist (Judged by Brenda Wong, Head of Social and Editorial at Debut, Sponsored by the Association of British Science Writers)

Winner: Interhacktives, City University
Highly Commended: Holdall, Brunel
Special Mention: The Lemon Press, York
Special Mention: The ISIS, Oxford

Best Newcomer (Just by Ashley Davies, a freelance for Metro, The Scotsman and others, and Sponsored by The Media Society)

Winner: The Manchester Magazine, Manchester
Highly Commended: Woke Magazine, Kingston

Best Website: (Judged by Alan Hunter, Head of Digital at The Times and The Sunday Times)

Winner: London Student, London
Highly Commended: Concrete, UEA

Best Design (Newspaper) (Judged by Ashley Auston, Lead Designer, The KM Group)

Winner: The Mancunion, Manchester
Highly Commended: Exeposé, Exeter

Best Design (Magazine) (Judged by Yoav Segal, Creative Director at RightsInfo)

Winner: Impact Magazine, Nottingham
Highly Commended: The Magdalen, Dundee

Best Use of Digital Media (Judged by Matt Taylor, Digital Development Editor, The Times)

Winner: Epigram, Bristol
Highly Commended: London Student

Best Sports Coverage ( Judged by James Toney, Managing Editor of Sportsbeat. Sponsored by News Associates.)

Winner: The QH, Westminster
Highly Commended: The Boar, Warwick

Best Reporter (Judged by Bill Coles, Ex-Royal Reporter at The Sun. Sponsored by Gorkana Jobs)

Winner: Emily Faint, Epigram
Highly Commended: Conor Matchett, The Student
Highly Commended: Sophie Dismhman, SR News

Best News Story (Judged by Louise Ridley, Long Form News Editor at BuzzFeed News. Sponsored by City University)

Winner: Susannah Keogh, Exeposé
Highly Commended: Finn Judge, Nouse

Best Feature (Judged by Mirren Gidda, Feature Writer, NewsWeek International. Sponsored by the University of Kent)

Winner: Megan Baynes and Caitlin Doherty, Concrete
Highly Commended: Jennifer Creery, Roar News
Highly Commended: Bea Fones,Exeposé

Best Interview (Judged by Daisy Wyatt, Deputy Head of Digital at the i Paper. Sponsored by Brighton Journalist Works)

Winner: Hannah Butler, Exeposé
Highly Commended: Megan Baynes, Caitlin Doherty and Jessica Frank Keyes, Concrete

Best Entertainment (Judged by Rebecca Lewis, Entertainment Reporter at Metro.co.uk)

Winner: Conrad Duncan, Redbrick
Highly Commended: Cameron Clark, The Boar

Best Comment Piece (Judged by Asa Bennet, Assistant Comment Editor at The Telegraph)

Winner: Eleanor Gray, Impact Magazine
Highly Commended: Molly Wyatt, Quench

Best Student Photographer

Winner: Ewa Ferdynus, BUMF
Highly Commended: Cameron Seymour, The Orbital